Banner advertising with SearchNZ


New Zealand's first and biggest Search Engine

SearchNZ was New Zealand's first search engine, and continues to be the preferred access option for those who want a comprehensive view of data on the New Zealand Internet. As its servers have been upgraded and are now hosted locally on a major node of the New Zealand Internet, SearchNZ is now much faster.

SearchNZ attracts a very large portion of its audience from within New Zealand, and if required, can target advertising to New Zealand only audiences.



---
Key Features
Keyword Triggered Banners
Dual exposure on search results
Biggest search engine in NZ
91% NZ user base
Fault-tolerant ("fuzzy") search engine
Large and loyal user base
Restricted to New Zealand site listings
---
Site User Profile/Demographics
Originating Viewer statistics
New Zealand Domains
(co.nz, net.nz, ac.nz, govt.nz, school.nz, org.nz)
80.74%
Other
(No domain name, likely to be approx. 80% NZ)
12.72%
US and global
(.com, .net,.edu)
3.32%
Misc.
(.com.au, .uk, .net.au, edu.au,.jp,.sg etc
3.22%
Summary: Total NZ Audience = 91%
With around 8 thousand unique users per DAY and 91% from New Zealand, SearchNZ has established itself as the most popular New Zealand search engine. SearchNZ users are loyal to the site's powerful technology and user-friendly features.
Many SearchNZ users are serious surfers who use SearchNZ during work hours for business-related purposes, usually looking for very specific information.
'Home' users are accessing SearchNZ after business hours and during weekends and holidays to help them find what they are looking for on the NZ web.
---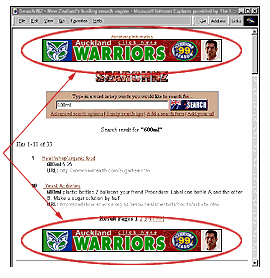 Supported Advertising Formats
All pages are fitted with a 468 x 60 full banner in prime advertising space at the top and a duplicate free ad on results pages.

All ad positions support rich media including Java and simple html forms.

Please visit http://www.searchnz.co.nz for examples


---
Advertising Rates

Please use our WebAds contact page to get more details on pricing and availability. Standard rates start at 5c an impression (ad delivered).